Metropolis Iron Releases Line of Custom Made Wine Rack Tables and Furniture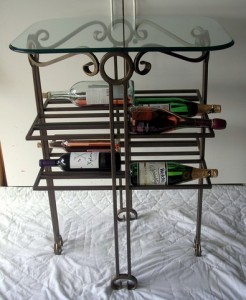 Metropolis Iron, a South Florida based home design firm specializing in iron and metal home décor has released a new line of custom designed wine rack furniture including tables perfect for the wine connoisseur. The firm has announced three new wine storage items on its online showroom at metropolisiron.net;
The Tall and Scrolly Table Base: This a tall but elegant table base that is able to accommodate the slimmest of wine bottles up to a 2 liter bottle of soda. The slim legs give it a delicate appearance but don't let that fool you. This table base is constructed of iron and very sturdy.
The Wine Enthusiast Table Base: This table base is the perfect piece of furniture for the wine enthusiast. It can hold up to 57 bottles of wine including 3 openings that are oversized for larger wine bottles or champagne bottle. The oversized openings are even large enough to hold a 2 liter bottle of soda.
Simple and Sturdy Wine Tower: This wine storage tower is available clean and simple or with vineyard adornment. Crafted out of iron and hand painted. Offered in 6, 12 and 18 bottle solutions OR can be custom built to accommodate any configuration and any combination of wine or champagne bottles.
Lead Designer at Metropolis Iron, Misti St. Pierre, states "our wine furniture is a great addition to our line of home décor, something our loyal customers have been requesting for some time" of the new line.
About Metropolis Iron
Misti St. Pierre is the owner and operator or Metropolis Iron, Inc. Her desire is to service interior designers, drapery workrooms and distinctive homes owners by providing custom fabricated decorative metal products made from iron and aluminum. We specialize in drapery hardware, drapery medallions, outdoor drapery hardware, address plaques, table bases, decorative inserts, pet beds and much more. She is involved in each and every project right down to the final faux finish that she hand applies herself. It is essential to her that the business is run with honesty and integrity, the two character traits she builds her life upon. Some of her favorite and appreciated clients are the small business owner and of course referrals!