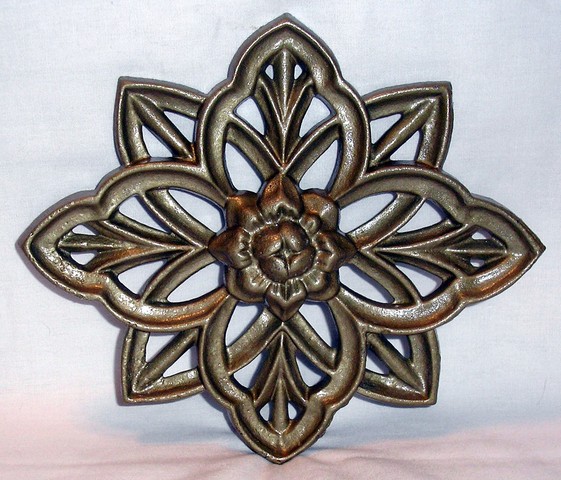 Drapery Rosette History
Drapery rosettes date back to the mid-Victorian era (1850-1870). They were originally created as a "curtain pin" or holdback. The first drapery medallions had large heads and thick stalks and were used more for functionality than decoration. By the late Victorian age (1870-1900) window treatments began to grow more elaborate and the drapery medallion began to evolve from a tool to a decoration. In these early days of drapery medallions, tiebacks were generally created in brass and a handful of designs including scrollwork or floral.
Window Treatments for Awkward Windows
When creating a window treatment, interior designers and drapery workrooms must keep the projection of the treatment in mind. Projection is a term that describes how far your window treatment will extend from the wall. With a drapery rod, projection is determined from the wall to the center of the cup of the bracket. With a drapery medallion, projection is determined from the wall to the back of the medallion. The average projection for a single layer window treatment is 3". However, projection can vary depending on the type of treatment you are striving to create.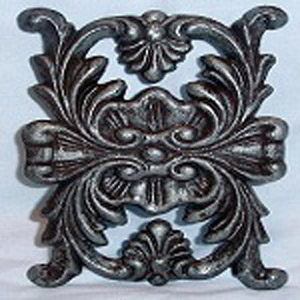 What is Projection?
In the world of drapery hardware with so many different terms for decorative items, one can become easily confused! Take for example drapery medallions and drapery rosettes, a term that is interchangeable. Generally a drapery rosette is formed in a floral design while a drapery or curtain medallion can be designed in a vast array of shapes and styles. Taken from the word "rose", drapery rosettes tend to be smaller in size while drapery medallions range from extra-small to extra-large and everywhere in-between.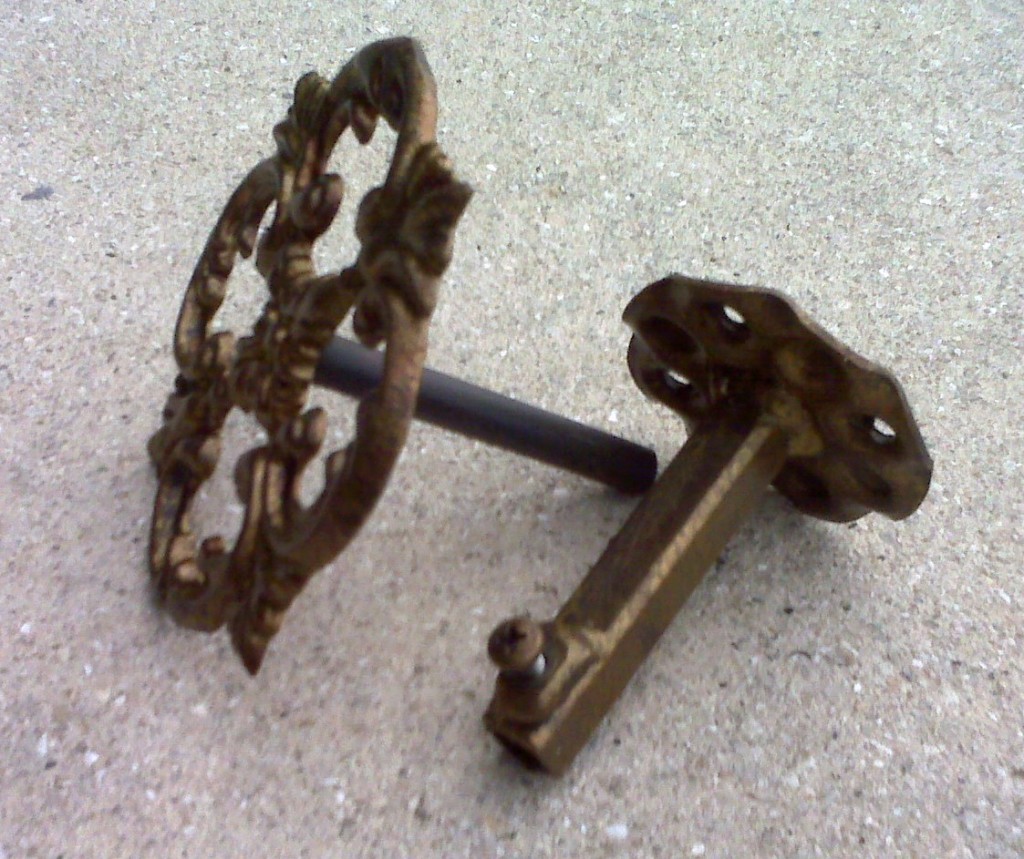 The Many Names for Drapery Medallions
A proper drapery medallion set consists of two pieces. The front decorative piece is considered the actual drapery medallion or drapery rosette. A stem is attached to back of the decorative medallion piece which is made of 3/8" solid iron. This stem fits into the sleeve of the next piece of the medallion hardware set, the wall mount bracket.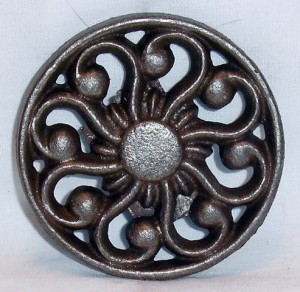 The Many Names for Drapery Medallions
This collection of large drapery medallions are the perfect solution for displaying your window treatments. They offer a creative and stylish alternative to the typical drapery rod scenario. They range in size from 6-1/4″ – 7-1/2″.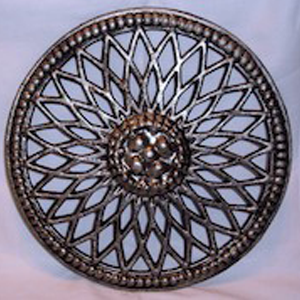 Metropolis Iron's Large Drapery Medallions
The size of a drapery medallion will make your window treatment appear more dramatic and allows your medallions to stand out when using drapes that are hundreds of inches long. A large drapery medallion will measure 6-1/4" - 7-1/2" while an extra-large medallion is 7-5/8" or larger. Our largest extra-large medallion is over 12" W. You asked for bigger drapery hardware pieces and Metropolis Iron is listening.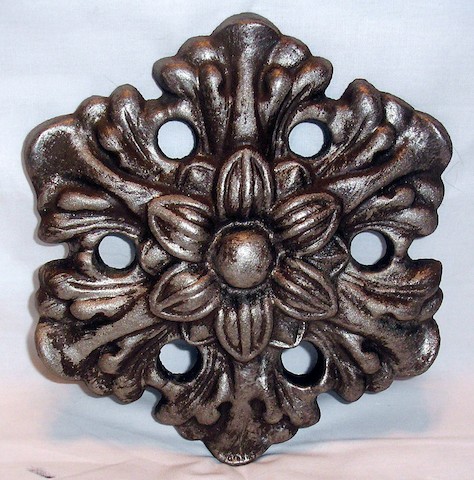 Large Medallions for High Ceilings
If you aren't very skilled in the world of drapery hardware vocabulary, creating the perfect window treatment can be a difficult task. Knowing what the item is can make all the difference in creating a fabulous window treatment. Drapery tiebacks or curtain tiebacks are one of the most easily confused items as they can be referred to by a variety of names. Metropolis Iron takes the many names and lumps them under the drapery medallion category. Some common names are drapery holdbacks, curtain holdbacks, drapery holders, and curtain holders. These are general names that refer to drapery hardware that is used to hold the curtain in an open position.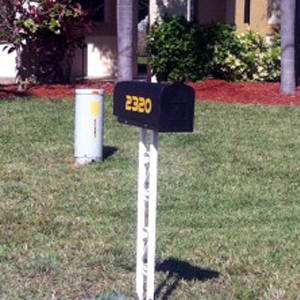 Drapery Medallions Terms
Many of us work our whole lives for our dream home. When we finally reach our goal of buying, remodeling or decorating our dream homes we pay detail to the color palette we choose inside and out, the flooring, the window treatments and even the outside landscaping. One commonly overlooked element is the identifying address numbers. Seems like we spend pain staking hours paying attention to every detail and then we slap up some 3" plastic numbers from the local hardware store or attach sticky numbers to our mailboxes in hopes they might endure the outdoor elements.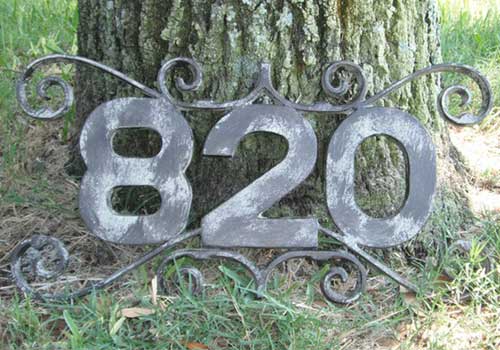 Be Proud of Your Home's Address Plaque
Adding style to any home, address plaques are an excellent alternative to unsightly traditional house numbers found at "big box" stores. Address plaques from Metropolis Iron come in a variety of designs and are created from lightweight, weatherproof materials that are designed to withstand even the harshest weather conditions. The typical scenario for a home address is either sticky numbers curling off the mailbox or silly plastic numbers crooked and falling off the houses.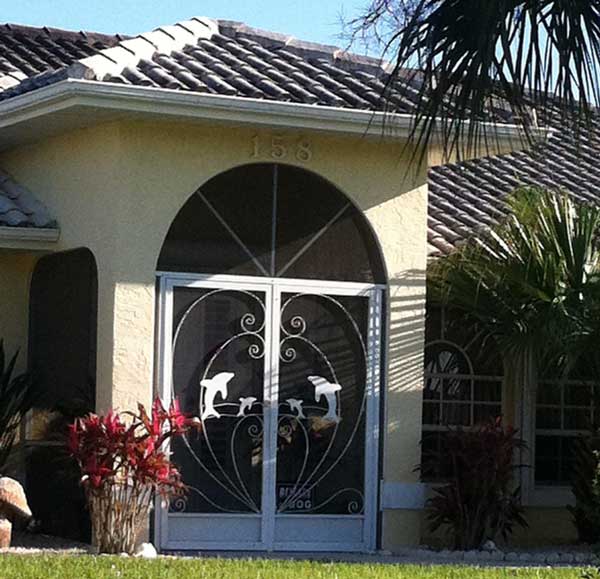 Address Plaques Brighten Yards
Address plaques don't just have to be functional, they can be beautiful too! One important element in adding your address identifying numbers to the front of your home is the proper color combination. The key is to choose a color that contrasts the body color of your home but compliments the accent color of your home.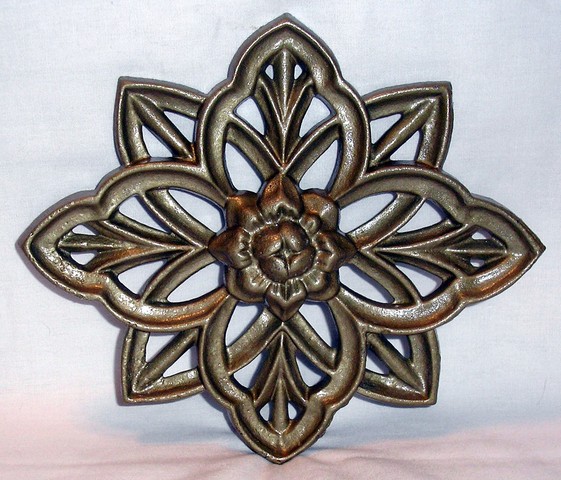 Address Plaque Color
Metropolis Iron, Inc. is a member of The Interior Design Society at a National level, a member of the Naples Chapter of the Interior Design Society and a member of the Sarasota Chapter of The Interior Design Society. In addition she is a member of NAWBO (The National Association of Women Business Owners) both at The National Level as well as a member of the Southwest Florida Chapter. She currently sits on the membership committee at the local level.
Address Plaques Help Meet Local Regulations
Add elegance and pizzazz to your outside decor with a unique and class address plaque. Draw attention from your neighbors and passerby's that will have them talking. If you would like your plaque painted colors that match your house we would request that you email us both a far away and close up shot of your house after you have ordered your address plaque. Don't see a style address plaque you like? Let us design one specifically for you. Need a unique and special gift idea? Have an address plaque custom designed today.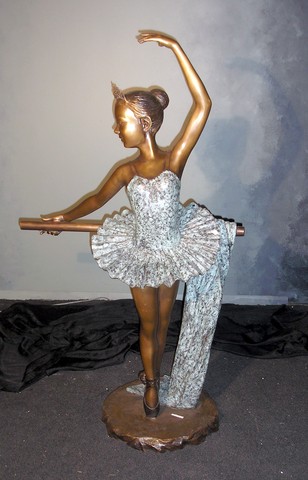 Metropolis Iron Partners with JSW Studios
Metropolis Iron has partnered up with JSW Studios to provide the most gorgeous bronze statues and fountains you have ever laid your eyes on. Sizes range from small desktop to more than life sized and beyond. Many of our statues come already plumbed so they are an easy and perfect addition to gardens, pools and pond areas.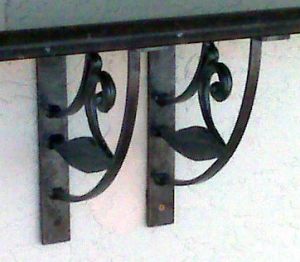 All About Corbels
Countertop support brackets (also known as corbels) come in a variety of materials ranging from plastic, resin, wood, aluminum, iron and more. Decorative support brackets made from iron are the most durable of these materials. They are also easy to maintain and have a high weight tolerance. Overall, they are your best option for adding charm, character and safety all at an affordable price.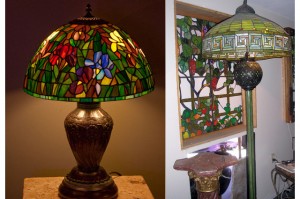 Stained Glass Light Fixtures
Metropolis Iron had partnered up with JSW Studios to provide stunning bronze and stained glass light fixtures. These Tiffany style replicated stained glass light fixtures range from chandelier type to table top to free standing floor models. The metal portion is made from bronze. The stained glass portions are fabulous hues of color combinations from oranges and reds to blue and purples and every color in between. They are not just a light fixture; they are a work of art. What a unique conversation piece for your home or office decor.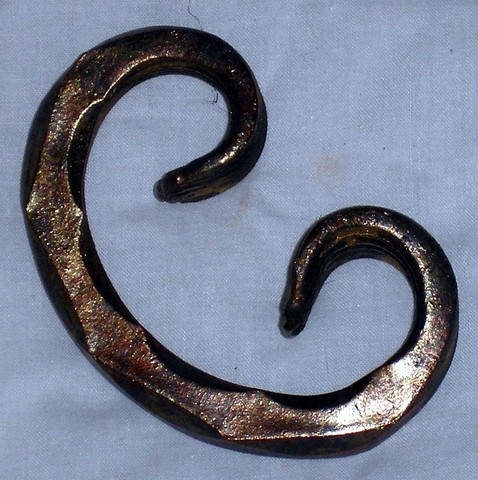 Drapery holdbacks
Drapery holdbacks are designed in straight and curved styles. When selecting drapery holdbacks for your window treatment you should always keep your overall projection in mind. Generally projection for a small drapery holdback is 3-3-1/2" while larger holdbacks see a projection around the 6"+/- area. When considering the projection needed for your design you should keep in mind that the type of fabric used for your panels will play a large part of your final decision on the projection of a straight holdback or the depth of the curve of a curved holdback. Light, sheer fabrics will only require a shorter projection, while thick, heavy fabrics will require a larger one.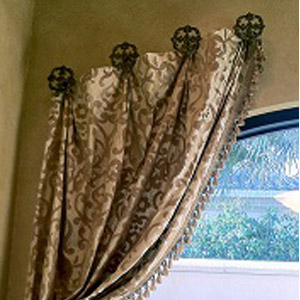 Drapery Layers
Metropolis Iron had partnered up with JSW Studios to provide stunning bronze and stained glass light fixtures. These Tiffany style replicated stained glass light fixtures range from chandelier type to table top to free standing floor models. The metal portion is made from bronze. The stained glass portions are fabulous hues of color combinations from oranges and reds to blue and purples and every color in between. They are not just a light fixture; they are a work of art. What a unique conversation piece for your home or office decor.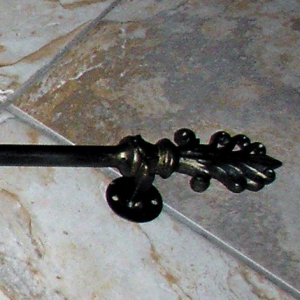 Complete Drapery Rod Sets
The drapery rod is the main part of a drapery rod set. Next week we will be discussing the different types of drapery rods in more detail. The function of the drapery rod is to hang drapery panels. Generally drapery rods are fabricated by the foot. Prior to ordering drapery rods you should be sure to measure your window. This step is particularly important with inside mount applications or in areas with space restrictions.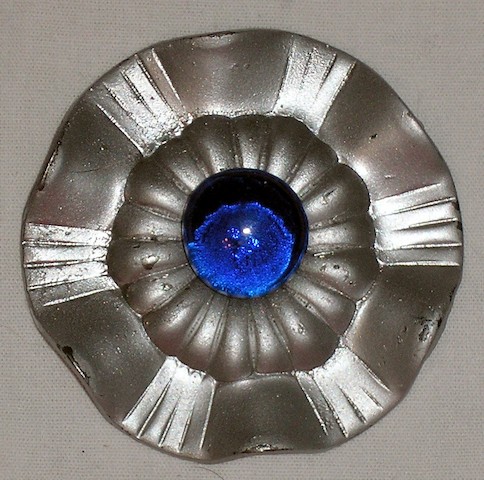 Specialty Drapery Medallions
This collection of unique drapery medallions are exclusive to Metropolis Iron and include mediums ranging from real sea shells, glass stones and aggregrate rock with many out of the box ideas being added all the time. Do you have something strange and unusual that you'd like to use in your window treatments? Let us know. We have the creativity to make it happen. These solid iron drapery medallions are great for elegantly hanging, swaging, slouching or scarving any type of window treatment. They also give you added flexibility over drapery rods for installation in strange and unusual spaces.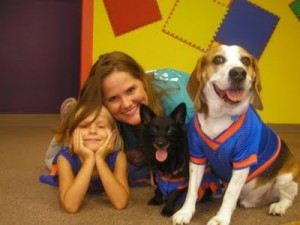 Meet the Owner of Metropolis Iron!
Misti St. Pierre is the owner and operator or Metropolis Iron, Inc. Her desire is to service interior designers, drapery workrooms and distinctive homes owners by providing custom fabricated decorative metal products made from iron and aluminum. We specialize in drapery hardware, drapery medallions, outdoor drapery hardware, address plaques, table bases, decorative inserts, pet beds and much more. She is involved in each and every project right down to the final faux finish that she hand applies herself. It is essential to her that the business is run with honesty and integrity, the two character traits she builds her life upon. Some of her favorite and appreciated clients are the small business owner and of course referrals.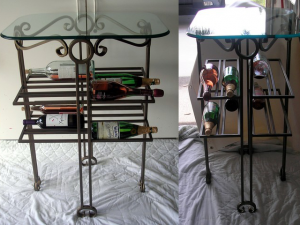 Wine Rack Table Bases
The Tall and Scrolly Wine Table Base is one of our many unique wine storage designs. We also have a variety of finishes to choose from to best blend with your home decor. This a tall but elegant table base that is able to accommodate the slimmest of wine bottles up to a 2 liter bottle of soda. The slim legs give it a delicate appearance but don't let that fool you. This table base is constructed of iron and very sturdy. The dimensions of the table base are 36-36-1/2″ H (without table top) x 24-25″ W x 18-19″ D. It weighs @ 25 lbs without the table top.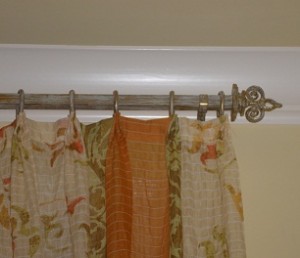 Types of Drapery Rod Mounts
Inside Mounted Drapery Rods: Inside mounted drapery rods are rods mounted between two facing surfaces. This type of mounting usually uses escutcheon brackets and is most common with windows having deep recesses. When measuring for inside mounted drapery rods, be sure to subtract 3/8" from the width of the rod if using escutcheons, to allow room for the brackets themselves and ease of installation.
Outside Mounted Drapery Rods: Outside mounted drapery rods are rods mounted on the wall above or beside the window opening or on the window trim or molding. Typically, outside mounted drapery rods project beyond the window. A typical projection is 3" but Metropolis Iron always accommodates any projection you need.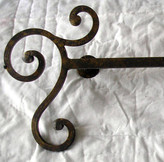 Stationary Panel Rods
This stationary scroll rod set is exclusive to Metropolis Iron, Inc. It is a beautiful addition in an area you'd like to have stationary drapery panels. It's out of the ordinary, unique and beautiful, beautiful, beautiful! Each set includes up to 4′ of 3/4″ smooth square drapery rod, one large scroll, one small scroll, two slide in/lock down mounting brackets that are not visiable from the front of the rod set and a removable finial end for simple drapery panel installation.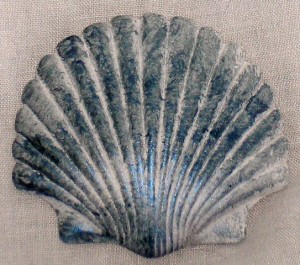 Metropolis Iron
Specializes in the fabrication of DECORATIVE METAL PRODUCTS made from IRON and ALUMINUM. We cater to INTERIOR DESIGNERS and DRAPERY WORKROOMS as well as the DISTINCTIVE HOME OWNER that needs that special piece of CUSTOM FABRICATED metal furniture or decorative drapery hardware. We also fabricate all types of TABLE BASES, we can make them out of IRON or ALUMINUM. A majority of our clients have found a TABLE BASE they like but need it in a different size, shape or height. Give us your photo and the dimensions you want and we'll make it exactly how you want it. Need help designing your CUSTOM TABLE BASE? We can help with that too! Every TABLE BASE made at Metropolis Iron, is a one of a kind CUSTOM FABRICATED piece of metal furniture.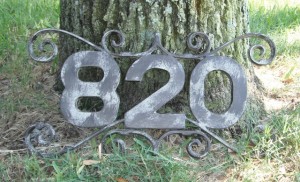 The Story Behind Scrolls for Sonia
Our "Scrolls for Sonia" address plaque design came about as Metropolis Iron owner, Misti St. Pierre struggled to find the perfect end of year gift for her daughter's kindergarten teacher, Sonia. Sonia held both a special place in Misti and her daughter's heart as she helped nurture and guide both through the trying first year of elementary school, so not just any gift would do! After trips to countless stores and shops, the perfect gift had still not been found. At this point, Misti decide to fall back on her art of designing and creating unique address plaques and make Sonia the perfect end of year gift, a custom designed address plaque for her home. Weatherproof and durable, an address plaque was the ideal gift for Sonia as it would last for years and bring back the memories of time spent in the classroom with Misti's daughter throughout the years.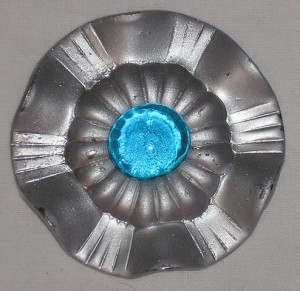 Dazzling Drapery Medallions
This collection of drapery hangers and curtain hangers is for your spaces that may need some bling or sparkle since they are made with mirrors, Swarvoski Crystal Elements and more. . You won't find these anywhere else, they were designed and developed by Metropolis Iron. Metropolis Iron is happy to offer some of the most unusual medallions and rosettes in the industry. These solid iron drapery medallions are great for elegantly hanging, swaging, slouching or scarving any type of window treatment. They also give you added flexibility over drapery rods for installation in strange and unusual spaces.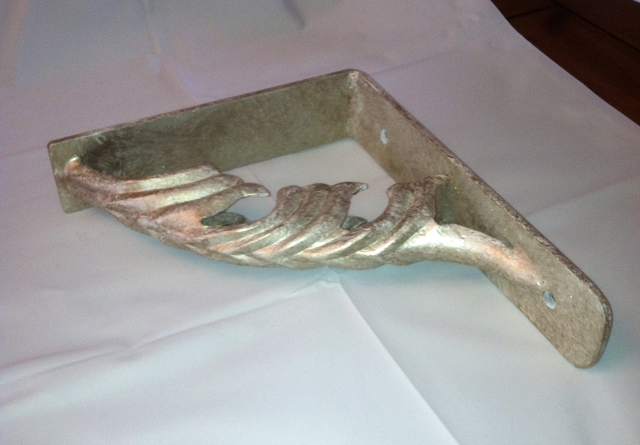 Alternate Corbel Uses
Corbels and brackets are mostly used in design plans as countertop support brackets, but can also be used in a variety of other places in your home and yard.
Corner Brackets: Corner brackets are great for a variety of design uses. One fantastic design idea is to use a set of ornate corner brackets to embellish a window or entry way. Also, in a home with post and beams or a screened in porch or lanai with posts, corner brackets can be used to add depth to posts.
Hanging Brackets: Hanging brackets can be incorporated into interior or exterior design plans in a variety of ways including hanging plants, bird feeders, and candles.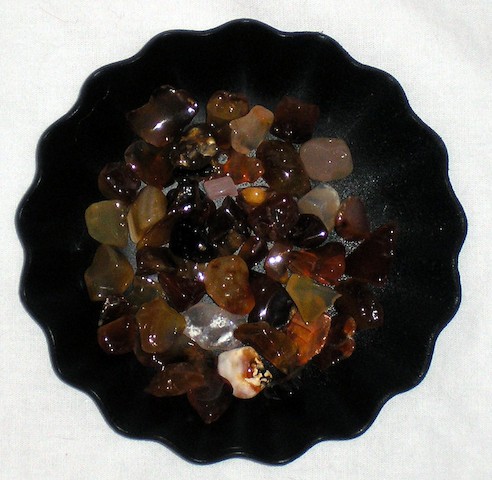 Curious what we do and how we can make your home even more beautiful and classy? Check out our portfolio to find the perfect piece(s) for your home or call me for a consultation for a custom piece made just for YOU!Check out our Portfolio!
Center of Attention Drapery Medallion Sets
This is one of our Center of Attention Drapery Medallion Sets. It has an over sized center crown with matching side medallions. All of the castings are from the same family and belong together in a set. We have grouped them together to make the selection process as simple as possible. These pieces are a little bit tropical and a little bit contemporary. They are made from aluminum so they can be used as outdoor drapery hardware as well as indoor drapery hardware.
Our Asian Greek Address Plaque
The Asian Greek Address Plaque appeals to those with a flair for European or Asian style. The Greek Frieze easily portray your Greek heritage yet can also take on the Oriental style with the square simple lines. The numbers are 5″ H. It is 12-1/2″ H, the length will vary depending on how many numbers are in your address. As shown the address plaque is 12″ W. YOU WILL NOT FIND AN ADDRESS PLAQUE THAT APPEALS MORE TO THE ASIAN EUROPEAN STYLE THAN THIS ONE AND IS ONLY AVAILABLE FROM METROPOLIS IRON, INC. A $25.00 packaging and shipping fee will be added to your project for shipping within the Continental U.S.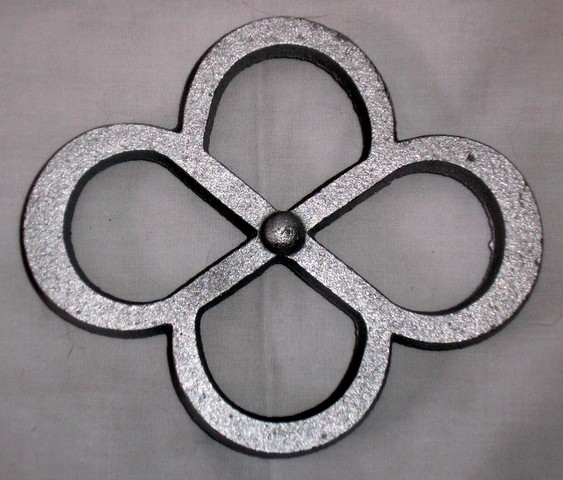 Popular Medium/Large Drapery Medallions
Medium/Large drapery medallions range in size from 4 1/4" to 6" and are best used as a stylish alternative to a traditional drapery rod. Using medallions in your window treatment design allows you to swag, swish and drape in ways that drapery rod applications cannot. Metropolis Iron's enhanced line of medium/large medallions all include a simple to install wall mount bracket. Projection for our medium drapery medallions is 3", but custom projection is available upon request for design projects that include shutters or blinds.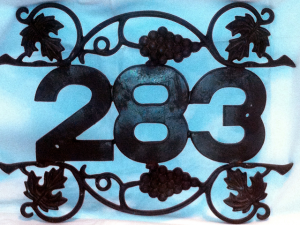 The Importance of Readable Address Plaques
Address plaques can add elegance, style, and curb appeal to any home if done correctly. If your house numbers are too small, faded, or too fancy, they aren't useful. While address plaques serve many purposes, their main one is to provide identification of your house number to emergency response units, delivery drivers, and visitors. When an address plaque has numbers that are not legible, identifying your home can be a difficult task. The most common number mistakes we see are: peeling numbers, faded numbers, numbers that are too small, numbers that are too thin, numbers that are too fancy, and numbers that blend in with the house.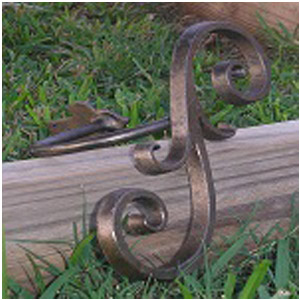 Curved Drapery Holdbacks
Medium/Large drapery medallions range in size from 4 1/4" to 6" and are best used as a stylish alternative to a traditional drapery rod. Using medallions in your window treatment design allows you to swag, swish and drape in ways that drapery rod applications cannot. Metropolis Iron's enhanced line of medium/large medallions all include a simple to install wall mount bracket. Projection for our medium drapery medallions is 3", but custom projection is available upon request for design projects that include shutters or blinds.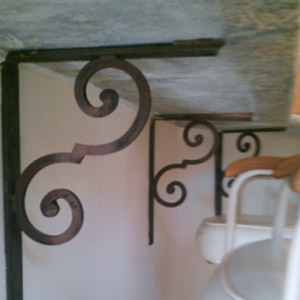 Use Iron Corbels for Durability
Iron corbels are popular because they are extremely sturdy and practically indestructible. Meaning, no matter how big or heavy your countertop is, an iron corbel will support it without any issue of breaking down or bending. All you need to do is to ensure that the corbel has been mounted properly and securely. On the other hand if you use corbels made of wood or other materials, a delicate or carved design will fail to provide the necessary support to the heavy countertop. They also have a higher probability of chipping, scratching getting damaged because the materials are so much softer than iron. Another added benefit is that an iron counter top support bracket will not rot or decay with use as is the case with wooden corbels.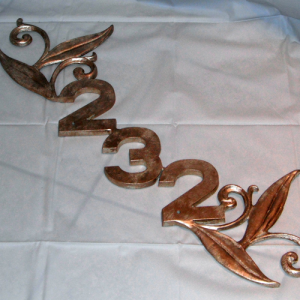 Banana Leaf Boulevard Address Plaque
The Banana Leaf Boulevard Address Plaque add a tropical elegance to your outside decor. It is made from aluminum and is completely weather resistance, even in the harsh Florida climate. It is made with 5″ numbers. The height and length will vary depending on the amount of numbers in your address. As it is shown it's 24″ H x 21″ W. YOU WILL NOT FIND THIS TROPICAL ADDRESS PLAQUE ANYWHERE BUT METROPOLIS IRON, INC.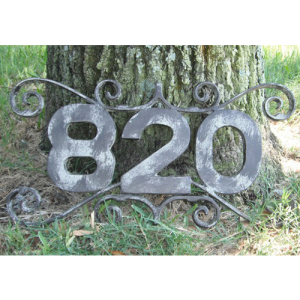 Mounting your Address Plaque
Take a few digital photos of the area you are considering for address plaque placement to guide you as you shop at Metropolis Iron online. If you have a wall mounted mailbox in your entryway, consider mounting the address plaque near the wall mounted mailbox to complement it. If you have a column or post mounted mailbox alongside the curb, consider an address plate for the column or an address plate for the post-mounted mailbox. If you are seeking an entryway-mounted or wall-mounted application, search for address plaques or address plates which can be easily adhered to the mounting surface with a couple of screws or construction glue.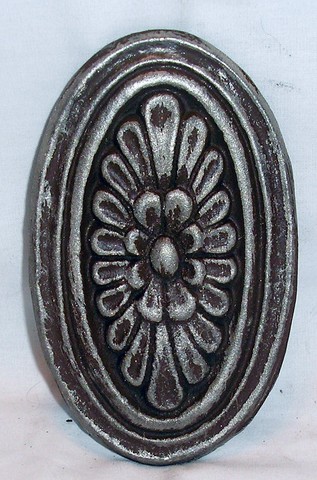 All About Small Drapery Medallions
Small drapery medallions range in diameter from 1 ¼" to 2" and are dainty enough to be used in even the most intricate window treatments. Metropolis Iron's standard projection for small drapery rosettes is 3", but we also offer custom projections up to 8" for any window treatment scenario.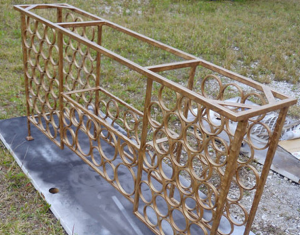 The Wine Enthusiast Table Base
This table base is the perfect piece of furniture for the wine enthusiast. It can hold up to (57) bottles of wine including (3) openings that are oversized for larger wine bottles or champagne bottle. The oversized openings are even large enough to hold a 2 liter bottle of soda.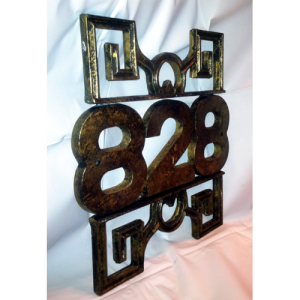 Peeling House Numbers?
A simple solution to peeling, crooked numbers is an address plaque made of aluminum that can be mounted on your home or in your yard. Also, weather resistant, aluminum will allow your address plaque to stand the test of time. Metropolis Iron'sselection of address plaques come with numbers in a standard 5" print, but can be customized by to 8". In addition, our line of address plaques offers homeowner an array of attractive designs to choose from.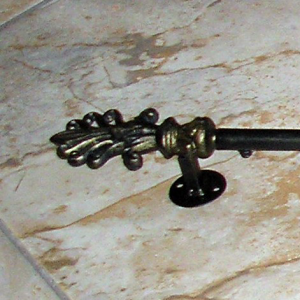 Metropolis Iron's Tapestry Rods!
Smooth round iron tapestry display rod. Choice of (10) finials. One end has a removable final end so tapestry can be easily installed. No bracket visible on rod. All mounting hardware attached to finial and is not visible from the front of the tapestry. 1-1/2" projection so tapestry hangs close to the wall. This tapestry rod is exclusive to Metropolis Iron, Inc.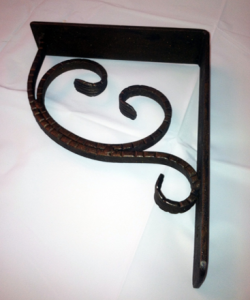 Iron Corbels for Support!
Generally any overhang of more than 6" should be supported with the extra strength of a corbel. A countertop that doesn't include the added support from a corbel can see extensive damage including hairline stress cracks and sagging. When choosing a corbel for your next design project keep in mind the different types of materials and styles of countertop support brackets that are available, as with anything, there are pros and cons to each design style and material used. Overall, iron corbels are the best choice.
The Difference Between Drapery Medallions and Holdbacks
Drapery Holdbacks: Holdbacks are exactly what they sound like: they hold back the drapery panel from the window and allow natural light into a room. They can be curved or straight and usually have a finial or a medallion attached. Drapery Medallions: Medallions are an alternate way to hang window treatments other than the traditional drapery rod. Drapery panels or valances are either hung or swagged from them. Medallions can also be inserted into cornice boards to add depth and dimension. Medallions are often used to hang treatments in awkward areas of the home that don't allow for a traditional rod to be hung.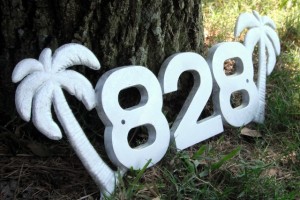 Placing an Address Plaque
Having your address numbers clearly marking your property is mandatory by local and city municipalities. There are 3 main places homeowners can place an address marker: On Your Home, On Your Lawn, and On Your Mailbox.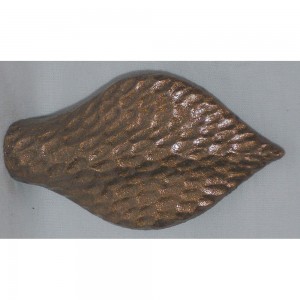 Drapery Hardware for Outdoor Areas
Outdoor living spaces add an elegant and luxurious area to your home. Patios, lanais, porches and gazebos offer relaxing areas to unwind and entertain. Outdoor curtains displayed with outdoor drapery rods or outdoor drapery medallions will make your lanai or porch more inviting to relax in as they provide added privacy and tranquility. They are the perfect addition to the popular area of your Florida home.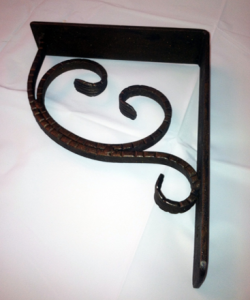 Why Use a Corbel?
Sometimes designers are intimidated by large corbels and tend to undersize them. A larger corbel will bring attention to an island. In the kitchen, a corbel serves a real function, it holds up a counter top overhang, but at the same time, it makes a statement of style and importance. The right size is based on the designers' message. If the kitchen's message is "harmony," the designer can choose a more common size corbel, around 10" to 15." On the other hand, if the designer wants a 9' island to say, "Look at me!" and make a grand statement, then an 18" to 30" corbel will accomplish that goal. Metropolis Iron's full line of corbels differs in sizes for all design options. If your design includes larger corbels, just ask! We love custom orders!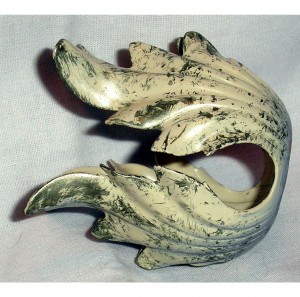 What is a Cornice Board?
A cornice board is an element of window treatment décor that is fabricated from a plywood, padding and fabric that is hung over a window, door, or series of doors. They are popular because they hide the seam between the end of the door/window casing and the walls. It is a decorative separation. You can add pretty trim and design the shape. You can even add drapery medallions as a cornice mount application for even more character and charm. Measured and installed correctly, they will hide functioning blinds or shades.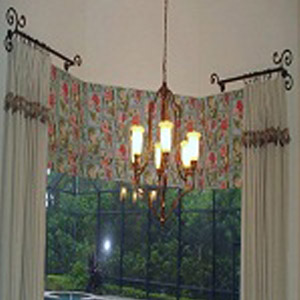 Display Stationary Drapery Panels
After experimenting with many different style ideas and configurations, we created the "Stationary Panel Scroll Drapery Rod," a design exclusive to Metropolis Iron. The complete drapery rod set comes with a large scroll end that is 11-1/2" H x 7-1/2" W , a small scroll end that is 3-3/4" H x 5" W, up to 4' of ¾" square drapery rod, wall mount brackets with a 3" projection and touch up paint for concealing screw heads. The already beautiful design is well complemented by square drapery rings.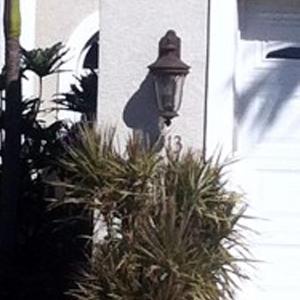 Don't let your Landscaping Hide your Address Plaque!
So, what can you do to avoid this problem? There are a few sensible solutions. First, when you place your address plaque have someone hold the plaque where you plan to place it. Talk a walk out to the road in front of your home and make sure that no landscaping is blocking its view. Also, keeping your hedges and landscaping in front of your home neatly trimmed will allow the address plaque to be seen by all passerby's as well as increase your home's curb appeal.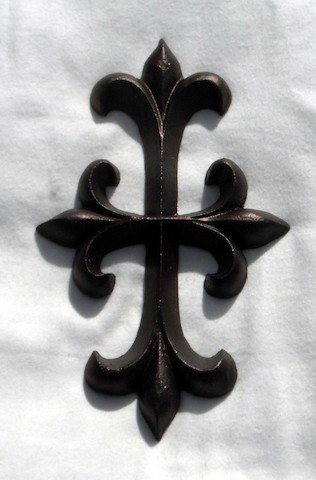 Drapery Medallions- Size Matters!
Consider the size of your drapery medallion. Yes, 3-4" can be a great medallion size for most window treatments. It's actually the most commonly used size drapery hanger. We are not sure if it's because it's one of the only sizes available or because it's the size interior designers and drapery workrooms prefer (We would love to know this answer by the way). What about when a smaller or larger medallion is needed? Designers should consider all drapery medallion sizes from extra-small (1 ½-2") to extra-large (7-12 ¾"). Using larger medallions will ensure that they don't get lost in a room with tall ceilings. Using smaller medallions ensures that the overall window treatment is not overpowering in smaller, simpler spaces.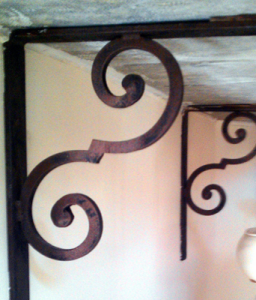 Kitchen Countertop Design Trends- Part 1
1.) Poured Concrete: Concrete is durable, strong and withstands the test of time. It can also give your kitchen an organic or natural look.2) Butcher Block: Butcher block can create an elegant, yet functional countertop. A bit more maintenance is required with this type of material as it should be oiled and sealed monthly.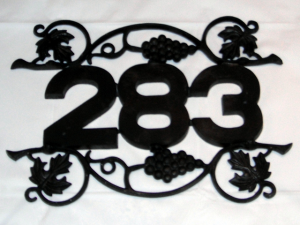 Address Plaques Make Great Holiday Gifts!
Customized address plaques are a wonderful gift for those "hard to shop for" folks on your list. Address plaques are functional as they provide homes with an identity to visitors and can add a great amount of curb appeal to a home. A thoughtful gift, address plaques can be customized to a design and color that best fits the landscape and architecture of a home. Gift giving doesn't need to be boring this holiday season, to view our full line of address plaques visit Metropolis Iron's website and spice up your gift giving!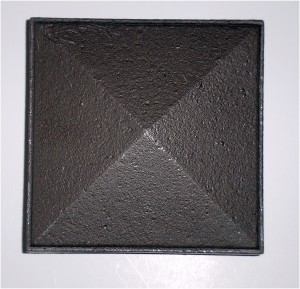 Square Drapery Medallions POP!
Like our extensive line of round drapery medallions, square medallions also come in a range of sizes from extra-small to extra-large. Square medallions are forged from the same methods quality materials as their round counterparts, ensuring that you are getting a strong medallion that was crafted with quality and care and will stand the test of time. Square medallions can be particularly useful in design ideas where the curtain involves a square or checkered pattern as they enhance and compliment the shapes represented in the drapes. General projection for square medallions is 3", but as with all of our medallion products, custom projections are available upon request.
Kitchen Countertop Design Trends- Part 2
Soapstone: Quarried like granite, soapstone is a naturally gray color that darkens with age. Soapstone offers a smooth feel and matte finish and offers homeowner's low maintenance as scratches can easily be sanded or oiled away.
Recycled Glass: With a life expectancy of over 50 years, recycled glass countertops offer an environmentally friendly design choice. Many color choices and easy maintenance are selling points for these types of unique surfaces.
Creative Ideas for Curtain Tiebacks!
Drapery Medallions: Drapery Medallions can be a great way to tie back your curtains. Medallions come in an array of shapes, sizes, and finishes to match the décor of any room and are extremely versatile for window treatments that involve heavy drapes.
Feather Boas: Feather boas are a great curtain tie back for a little girl's princess bedroom or a trendy playroom design. Be sure to tie the boa loosely so that it does not lose its fluffiness.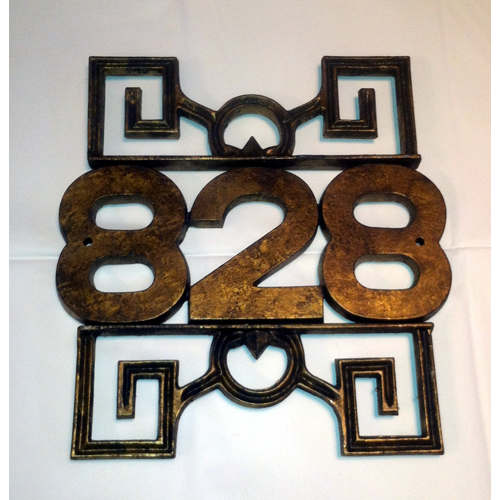 Durable Address Plaques are Best Choice!
With the northern states moving into the winter months, it can only mean one thing…Snow is coming am I sure am happy that I live in Florida! Did you know that Metropolis Iron's address plaques are designed with durability to the weather in mind? Many address plaque designers create plaques that are beautifully designed, but are created with materials that aren't weather resistant such as plaques forged from heavier metals with back plating. With time in the elements, these address plaques can begin to show wear and tear and become an eyesore instead of an item that brightens your home and yard. Metropolis Iron's address plaques are all created from lightweight, weatherproof materials that are designed to withstand anything Mother Nature has to offer and stand the test of time!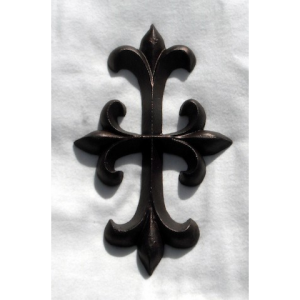 Drapery Medallions for Great Rooms
Metropolis Iron's extra-large and large drapery medallions are perfect for great rooms and rooms with higher ceilings. Not only do they provide the strength that longer and heavier drapery panels require, but with a maximum diameters ranging all the way to 10" they stand out from the drapes and the rest of the window treatment. As they come in a variety of shapes and finishes, large drapery medallions can be used in even in common and custom window treatment designs alike.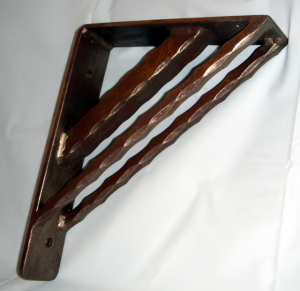 Why Granite Countertops Need Corbels!
Using the correct sized corbels is a good insurance policy for your granite countertop purchase. For example, if you have a 14" overhang, you should have a support that is at least 12" deep and 10" high. Your best bet is ask the advice of your counter top fabricator or your carpenter to ensure you are purchasing the properly proportioned corbels for your size over hang.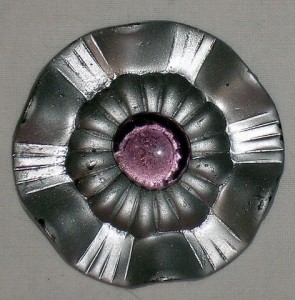 Using Drapery Medallions on Curved Walls
Drapery medallions are a perfect solution to the curved wall issue that so many of us run into. Medallions don't require a straight wall as a drapery rod does and can create a custom window treatment style and design. Additionally, medallions can be hung to suit any window design such as arch and bay windows. Using drapery medallions creates an element of flexibility and creativity not always available when using standard drapery rods.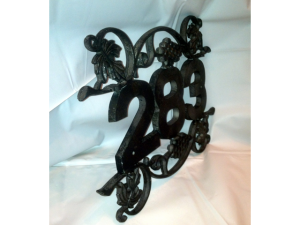 Vineyards Address Plaque
With the northern states moving into the winter months, it can only mean one thing…Snow is coming am I sure am happy that I live in Florida! Did you know that Metropolis Iron's address plaques are designed with durability to the weather in mind? Many address plaque designers create plaques that are beautifully designed, but are created with materials that aren't weather resistant such as plaques forged from heavier metals with back plating. With time in the elements, these address plaques can begin to show wear and tear and become an eyesore instead of an item that brightens your home and yard. Metropolis Iron's address plaques are all created from lightweight, weatherproof materials that are designed to withstand anything Mother Nature has to offer and stand the test of time!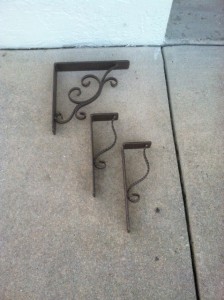 We LOVE custom orders!
I recently received a call from an interior designer out in Colorado. She was quite panicked after an afternoon of searching the web for corbels for her clients new "oddly" sized kitchen island countertop. With the countertop being made from granite, not using any type would do, it needed to be strong. She had spent hours searching various design sites and warehouses looking for one corbel with at least a 14" depth and two corbels only needing to be 4" deep.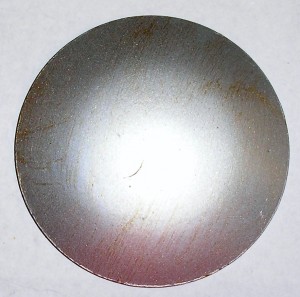 Polka Dots are a Spot on Design Trend
Polka dots are back in trend and are popping up as design aspects in all rooms of the home. Polka dots are being used in wall papers, fabrics, and even accessories like these great polka dot drapery medallions from Metropolis Iron. They are a smooth, button like drapery medallion that range in diameter from 2"-5" and fit into any polka dot themed room. These polka dot drapery medallions can even be converted so they can be added onto to cornice boards.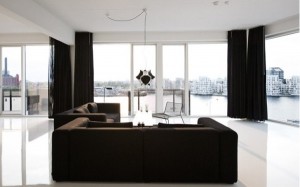 Black for Window Treatments?
Black window treatments can be used to create a modern look by matching them with monochromatic furnishings and décor. Keep in mind that you don't need to have ultra-modern furnishings to pull off a black window treatment. The design works well in any room, especially rooms with a colorful decorating scheme, as it can bring a sense of balance.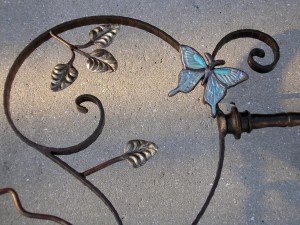 Wrought Iron a Timeless Home Decor Material
Obtainable in various shapes, dimensions, styles and designs wrought iron is commonly used in home décor designs.Home designing with wrought iron is brings strength, beauty, and timelessness to any home décor situation. The plethora of interior design items with wrought iron includes amazing styles and designs to bring sophistication to your rooms, walls and outdoors.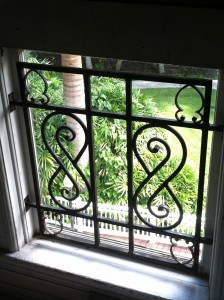 Our Recent Donation to The Burroughs Home!
We always appreciate creating custom designed home décor pieces and enjoy helping out others and our community, so Metropolis Iron's recent donation of a custom window guard to The Burroughs Home in Fort Myers was a very rewarding experience for our firm!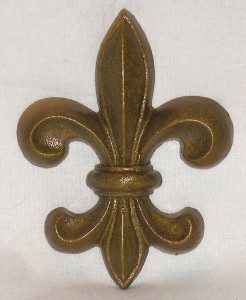 Fleur-de-lis Drapery Medallions
Incorporating the fleur-de-lis into your window treatment design can be another great way to incorporate it into your overall room design. While fleur-de-lis curtains may be a bit too "busy" for most of our homes, a fleur-de-lis drapery medallion can be a nice, classy touch. Metropolis Iron offers fleur-de-lis drapery medallions in four sizes!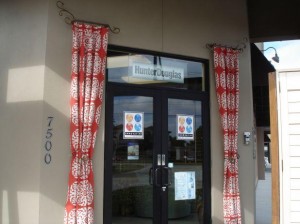 Outdoor Drapes and Drapery Hardware
Metropolis Iron's full line of outdoor drapery hardware and outdoor drapery medallions are forged from aluminum which is durable, non-corrosive and able to withstand even the harshest outdoor climates. From drapery rods to medallions, our outdoor line incorporates some of the hottest designs including rustic, classic, contemporary, coastal, and more.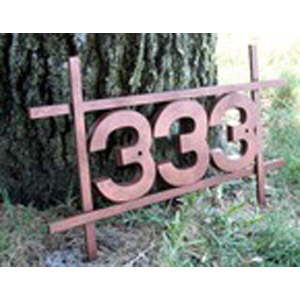 The Plain and Simple Address Plaque
Metropolis Iron has designed a new address plaque that brings back simplicity to yard décor. The Plain and Simple Address Plaque is simply your address numbers in an oversized frame/crisscross design around them which is clean and bold.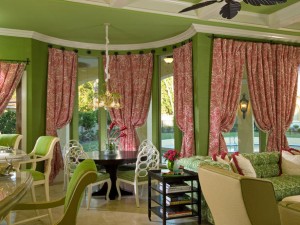 Drapery Rods and Drapery Medallions- Tying Together the Look
We love the look of this room and especially appreciate that the HGTV designers used both drapery rods and drapery medallions in the same setting. Pulling off a rod/medallion look can be difficult, but with these following tips, anyone should be able to create a beautiful room that incorporates both the drapery hardware design elements.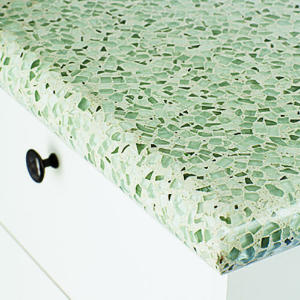 Recycled Countertops 101Recycled Countertops 101
Recycled countertops slabs are quite heavy, so as with any cumbersome countertop material, proper support should be used. Metropolis Iron's large line of countertop support brackets/corbels are designed with function in mind and can bear the weight of most recycled countertop designs. For oversized countertops we also product custom sized corbels to bear the weight of any load. Our countertop support brackets come in an array of designs, finishes, and sizes.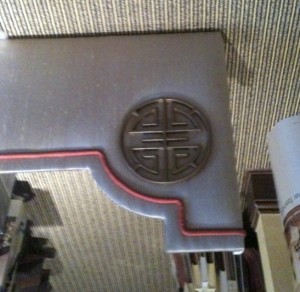 All About Cornice Boards
Cornice boards can come with or without medallions, but adding medallions bring a unique look to your cornice board that can help tie together the overall look of your room. The cornice board medallions created by Metropolis Iron are specially forged to be able to be installed on the front of your cornice boards.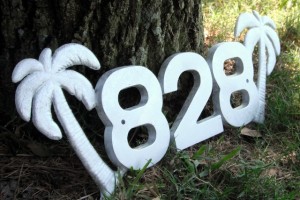 Product Feature- The Las Palmas Address Plaque!
The Las Palmas address plaque from Metropolis Iron brings a tropical feel to any yard while making your home recognizable to delivery drivers, guests, and emergency workers. Featuring 5" tall numbers flanked by beautiful palm trees, the Las Palmas address plaque is designed of durable aluminum.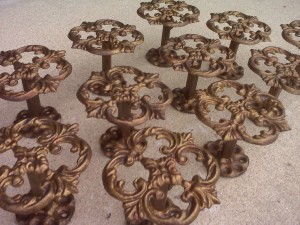 Metropolis Iron- Largest Drapery Medallion Supplier!
As Metropolis Iron has grown over the years, our product line has grown and changed, making us the largest, most comprehensive supplier of custom iron drapery hardware and medallions in the US. We've put hours of research into our competitors, their products, and how our products and selection compare. Our online showroom is by far the largest and features the largest selection of drapery medallions from any single supplier.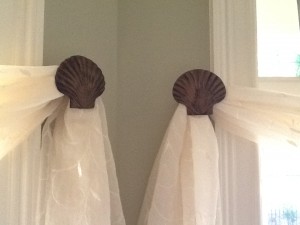 Seashell and Coastal Drapery Medallions
Our shell drapery medallion is most sought after in a medium size of 3 ¾ x 3 ¼ although many sizes and styles are available. Available in 10 finishes, our shell medallions can be fit into any color scheme. We even make coastal drapery medallions made from REAL sea shells for that authentic beach window treatment.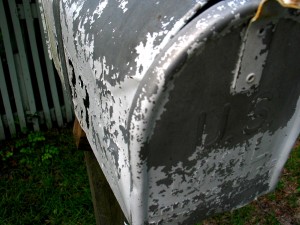 Why I Create Beautiful Address Plaques
One of the questions I always get asked by my clients is "What inspires you to create one of a kind address plaques?" I almost immediately want to pull them into my car and drive them through some of the more "upper class" areas of Fort Myers, Naples, Cape Coral and the surrounding Southwest Florida areas. While many things push me to design unique, functional address plaques the biggest factor is this (and please forgive my bluntness, but there is no kind way to say this)….I despise beautiful million dollar homes with cheesy plastic numbers that are sun faded, peeling and unreadable.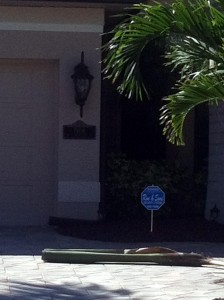 Tips for Address Plaque Placement
Not too low, not too high: Generally you want your plaque to hang anywhere between 4.5 ft. and 5.5 ft. high if your intent is to have it at eye level. This is well within the average person's visual plane and will allow them to naturally view the address plaque without craning their necks to see it. If you intend to install it over your garage make sure you place it several inches above the garage door with leaving several inches between the plaque and the soffit. Stand at the end of your driveway and pretend you are delivering a package. Where would you expect to see address numbers for the house?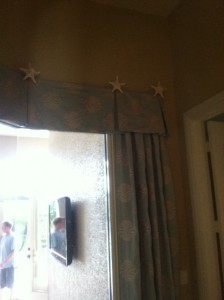 Check out These REAL Seashell Drapery Medallions!
Made from scalloped shells, polished and decorative shells, coral, starfish, and many others ranging in sizes from 2" – 6" in any of our 12 finishes. Available in custom sizes and projections, these uncommon drapery hardware pieces can be forged to meet the needs of any coastal or beach décor home design project.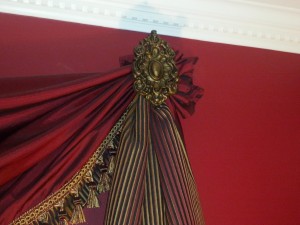 Unique Drapery Medallions Give Life to Any Room!Unique Drapery Medallions Give Life to Any Room!
When designers think drapery medallions they think of a round, medallion shaped drapery accessory for hanging or tying back drapes. When they think drapery rosettes, small flower shaped drapery accessories come to mind. Metropolis Iron is here to break the mold and change the way that designers use medallions, by introducing a line of eclectic, classic and just plain out funky shaped drapery medallions. Medallions don't have to be plain, round metal hangers anymore!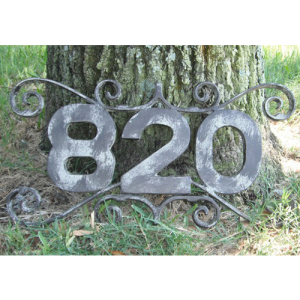 Teacher's Love Address Plaques!
A few years ago I was stuck on a end of year gift idea for my daughter's amazing kindergarten teacher, Sonia. I looked online, at boutiques, in catalogs and just couldn't find the right gift that had the right sentiment. Too bad a nicely polished apple doesn't fly anymore! After racking my brain for a great gift idea, I turned to what I know best and what I do for a living, metal and iron home décor.I thought about Metropolis Iron's vast product lines and determined that a custom designed home address plaque would be a unique, but proper gift. It was something that Sonia would have for years and each day when she arrived home from a long day at school would pull into her driveway and remember one of her favorite students. Sonia is a traditional type, so I created her address plaque in a traditional scroll design and aptly named it "Scrolls for Sonia."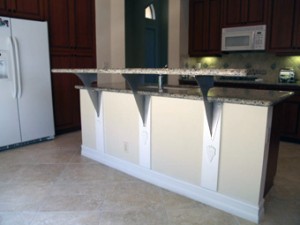 Have you Heard of Floating Countertop Support Brackets?
Raised or floating countertop extensions are typically used on island or peninsula base cabinets. They add extra countertop space by using large steel brackets similar to the smaller corbels that are used to support normal countertop bar extensions. The brackets are strong and much larger than traditional supports because they are often used to support granite countertops, but you can use them for any other type of raised countertop, such as glass or solid wood countertops.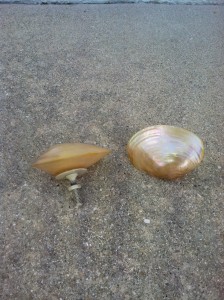 Check Out Our Seashell Cornice Mount Drapery Medallions
Here at Metropolis Iron we are always trying to design new products and refine time tested products to fit certain decorating niches or peak new design ideas for the end user. We recently introduced our line of authentic drapery medallions into the world of cornice mount applications for interior designers, drapery workrooms and distinctive homeowners.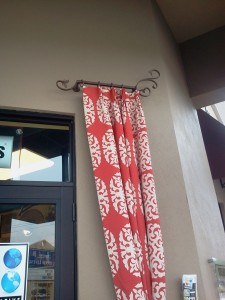 Get in the Summer Mood with Outdoor Drapery Hardware
Outdoor drapery and hardware are also gaining in popularity. If you haven't discovered this outdoor accessory yet, they serve multiple purposes. Use them to divide a large outdoor area into smaller, separate spaces when you are entertaining guests as it creates a cozy atmosphere. Hanging curtains will give you more cooling shade on sunny days. It will also help to prolong the life of your outdoor furniture.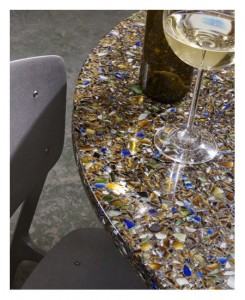 Alkemi Countertops give any Green Kitchen a "WOW" Factor!
More and more homeowners and designers are choosing to employ green and sustainable products when building or redesigning a home. The "Green Movement" has definitely taken hold and many common home items are now being offered in recycled forms including kitchen countertops and corbels. If you are looking for a "wow" factor in a eco-friendly countertop, alkemi countertops are like none other. Many of the materials we use in the fabrication of the iron corbels are green products as well since many of them are made from "casted iron". Casted iron is various forms of iron melted and poured into molds to be used as a secondary life of a product.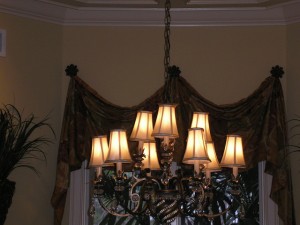 The Importance of Curtains, Blinds and Drapery Medallions
Curtains have been a popular choice for windows for decades. Since they have been in use for such a long time, they are a faithful and traditional choice as a window cover. They come in a variety of colors and designs, so it is easy to find one that suits your taste. You can also choose from a variety of fabrics and sizes. Hanging your curtains can be accomplished using a traditional drapery rod or a decorative drapery medallion set.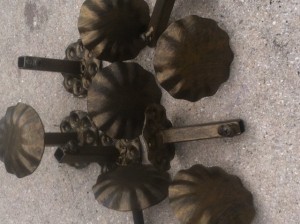 Introducing Ruffled Drapery Medallions
Our new ruffled drapery medallions will pop in any treatment scenario and come in 3 sizes; small, medium and large to meet all your home décor and design needs, https://www.metroiron.net/item-10109-2-14-diameter/ . Each of our medallions comes in a standard 3' projection, although custom projections are available by request. Additionally, each of our ruffled medallions comes with all hardware for easy installation. Available in 10 finishes, our medallions can be matched to any existing color or hardware scheme.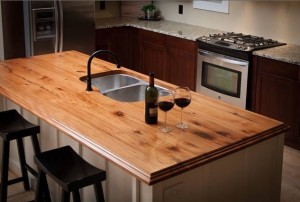 We Love Reclaimed Wood Countertops!
Reclaimed wood countertops can tend to be on the bulkier side, so prior to installing, you will want to be sure to purchase a set of countertop support brackets in the correct size for your project. Our corbels are designed with strength and durability in mind and come in an array of designs and finishes that complement many design situations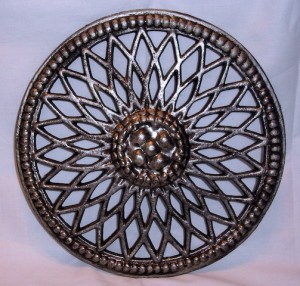 Drapery Medallions Ranging from Extra-Small to Extra-Large!
Extra-Large Drapery Medallions: Our Extra-Large drapery medallions are 7-5/8" +. A great medallion for use in foyer treatments or treatments with very, very long drapes (like used in a great room), the extra-large medallion will stand out and be seen from the floor.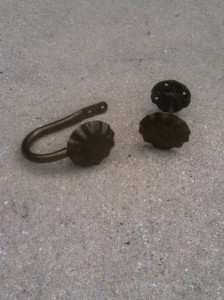 Straight vs. Curved Drapery Holdbacks
Drapery holdbacks come in a curved and straight style. Metropolis Iron's online showroom features both of these highly sought after styles. Our curved medallions are great for holding back your drapes, even those that may be bulky and cumbersome. If you are searching for a unique drapery rod alternative, try our many styles of straight drapery medallions. Our straight holdbacks are wonderful for use as a traditional holdback, but can make any treatment pop in lieu of using a drapery rod.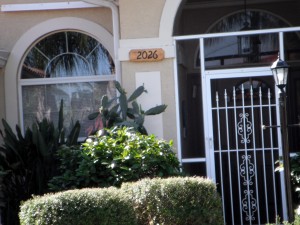 Tips for Placing your Address Plaque
One of my biggest pet peeves in life is pulling up to a gorgeous home with cheap, plastic house numbers. Even worse is a beautiful address plaque that is hidden from view by landscaping! An address plaque is meant to be seen and properly complement your house! We've compiled some great tips to help in placing your next address plaque from Metropolis Iron!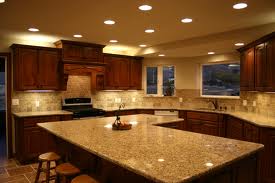 Travertine Countertops Paired with Iron Corbels Makes Great Design Choice
As with any stone countertop, extra support should be considered when installing a travertine countertop. Using a countertop support bracket or corbel from Metropolis Iron will provide the support needed by a travertine countertop and add an extra decorative touch to your kitchen. Stone and iron are complimentary material mediums to each other.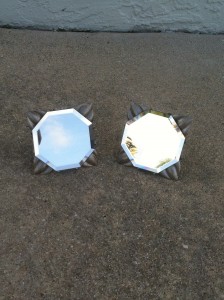 Our Mirrored Cornice Board Medallions are a Favorite Choice Among Designers!
One of our popular cornice mount medallion line is our mirrored cornice board medallions. Created with designers needs in mind, this unique line of medallions was created for use specifically in cornice board mounting situations and is designed for use in all sized boards. Adding mirrors to the drapery medallions bounces light around the room and gives the environment a playful, yet elegant feel.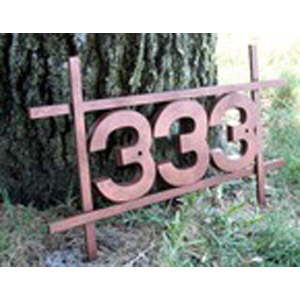 Address Plaques from Metropolis Iron Make Great Housewarming Gifts
With the economy and the housing market taking a turn for the better I've recently had a ton of friends and acquaintances purchasing new homes. Many folks have housewarming parties of which you should take a gift. I always love to give smart, meaningful gifts, particularly ones that won't be placed on a shelf and require dusting. I always turn to one of my favorite products here at Metropolis Iron, our address plaque, when choosing the perfect give to my new homeowner friends.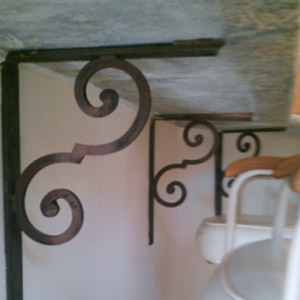 Corbels are Functional, but Also Add Flair to a Kitchen Remodel
Iron corbels and countertop support brackets offer a tremendous versatility in design, with myriad possibilities for both the style and color of the corbels. Metropolis Iron is sure to carry a decorative corbel perfectly suited to your next project!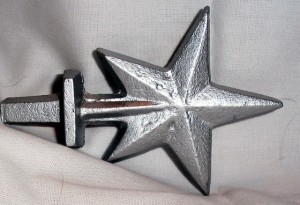 Add Depth to Any Window Treatment with Protruding Drapery Medallions
If you are a regular reader of our blog you already know that we LOVE drapery medallions! We love everything that they bring to a window treatment design, how they tie a look together and add a unique décor piece to a room. Many of our medallion faces are flat, but we recognized a need for a medallion that would add depth to a treatment design and created a full line of protruding drapery medallions.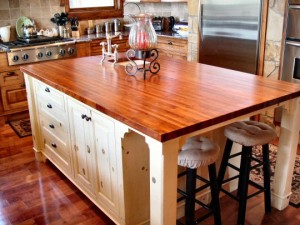 The Warm Look of Butcher Block Countertops
Are you thinking about renovating your kitchen? Doing research on countertop materials? If so, then The Metropolis Iron Countertop Spotlight series will help you. Today we look at the beautiful warmth of butcher block countertops.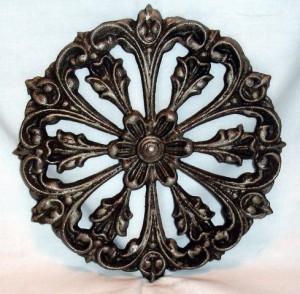 Traditional Drapery Medallions from Metropolis Iron Give Elegance to Window Treatments
Designers are you looking for a classic drapery medallion that brings a traditional feel to any window treatment design? Metropolis Iron's large line of drapery medallions includes many traditional drapery medallions to add elegance and class to any room design.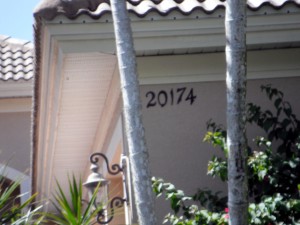 Proper Address Plaque Placement Tips
Try to place you address plaque in a place where it will be noticed. Many opt for over or near the front door or near the street. If you choose to hang your address plaque near your front door be sure that it is not blocked by any awnings or landscaping. Also keep in mind the shadow that is created by your home! Look at the area where you plan on placing you address plaque at different times of day to see if the area becomes shadowed, thus making the numbers hard to read.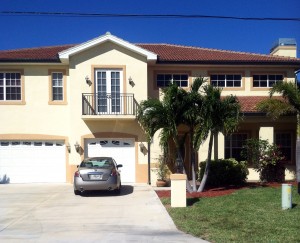 Missing an Address Plaque? Your Home's Identity Matters!
Metropolis Iron's large line of custom designed address plaques helps set your home apart from the rest of your neighbors by giving a special identity to passerby's, visitors, emergency services and delivery drivers. Address plaques can be particularly useful in neighborhoods and subdivisions where many of the houses have the same design or colors, helping your home stick out!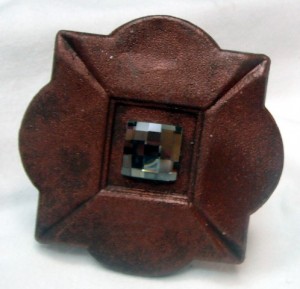 Dazzling Drapery Medallions Add Sparkle!
Designers are you tired of those plain, traditional drapery medallions and rods? Are you looking for drapery hardware that will add elegance, sparkle or pizzazz to your window treatment design? Metropolis Iron's line of dazzling drapery medallions will help you provide drapery medallions for window treatments that are both elegant and unusual, not found from any other source.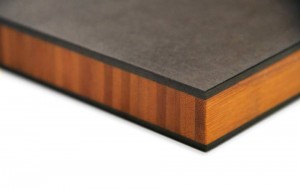 Recycled Paper Countertops are a Green Choice!
Eye catching and durable, recycled paper countertops are a great green home material, and they surprise many with warmth like that of stone countertop option. Recycled paper countertops are composed of postconsumer wastepaper, nonpetroleum-based resins and pigments. This mix is heated and compressed into a dense, monolithic slab with a feel that's often compared to a warm, soft stone, like soapstone.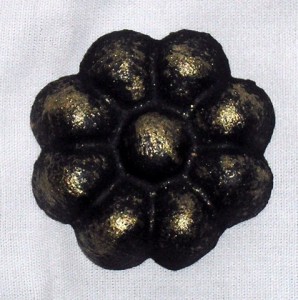 Extra-Small Drapery Medallions Provide Delicate Touch to Window Treatments
Designers looking to add a delicate touch to any window treatment will love our line of extra small drapery medallions. Perfect for those subdued situations, working with a very small window scenario and many other designs, our extra small medallions are up to 2" in diameter.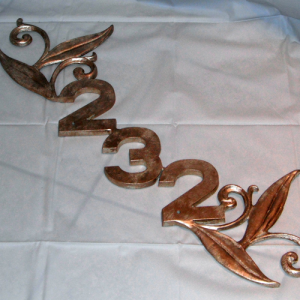 Banana Tree Boulevard Address Plaque= Paradise!Banana Tree Boulevard Address Plaque= Paradise!
Address plaques are used for a variety of reasons; giving your home an identity, jazzing up your home or landscaping, identifying your home to visitors, delivery drivers, emergency services and more. Metropolis Iron's line of address plaques was designed with looks in mind and you'll find that all our address plaques are very different than the plastic numbers and plaques you'll find at your local home improvement stores. This is true of all our address plaques, but especially our Banana Tree Boulevard Address Plaque.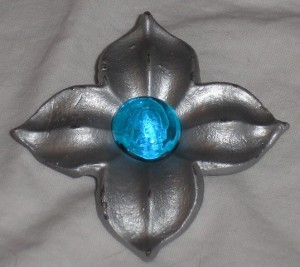 Traditional Vs. Contemporary Drapery Medallions
When looking for that perfect drapery medallion for a design solution many designers can become frustrated attempting to locate a medallion in a specific style. Metropolis Iron offers the largest selection of custom designed, hand forged drapery medallions including traditional and contemporary medallions.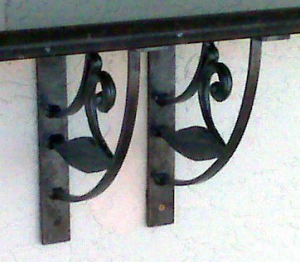 Support your Favorite Countertop Materials with Corbels
Kitchen design trends have changed and grown over the years and countertop materials have been changing right along with them.The latest rages in kitchen countertop materials include heavy materials such as granite, wood, recycled materials, soapstone and many more.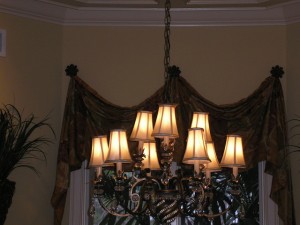 Moving? Think Drapery Medallions for your New Home!
Buying a new house or even moving into a new rental unit can be an exciting and stressful time for anyone! There are a lot of unforeseen additions to the move that aren't even realized; window treatments are one of them. What do you do when you move into a house and your windows are bare? At one end of the extreme spectrum you may be publicly exposed to your new neighborhood with lack of privacy (like blinds or shades). At the other end of the spectrum you may just lack interior style (with the absence of valances, drapery panels, etc. ). We recommend that you support a SMALL BUSINESS OWNER by contacting them about any type of window treatment. You will gain their expertise in the arena of window treatments while supporting a small business owner. It's a win-win for everyone.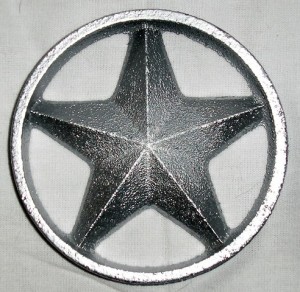 Brighten your Holiday Decorating with Holiday Themed Drapery Medallions
The holiday season is in full swing and visions of sugarplum fairies, tree decorating, Santa Claus and creating a beautiful holiday home are dancing through all our heads. If you are looking for a unique holiday decorating idea, try holiday themed drapery medallions from Metropolis Iron.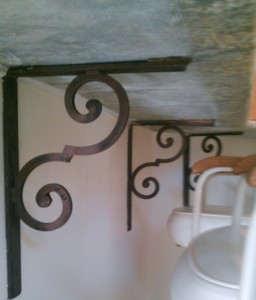 Corbels for Beauty!
If you are a regular reader of our blog, you know we love to write about the functionality of corbels or countertop support brackets. We constantly write about all the pro's of using corbels; how they can extend the life of your countertop and how they add much needed support when a heavy material such as granite is used, but we rarely talk about the beauty of corbels.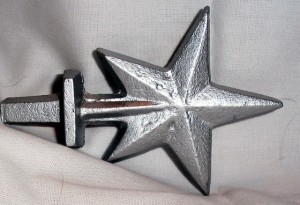 Country/Rustic Drapery Medallions Take Over Metropolis Iron Website
At the moment, country and rustic décor is all the rage. A handmade look and feel is what everyone is looking for. With the emergence of Pinterest as a major source for DIY home trends, designs and ideas, many are moving towards rustic, country and shabby chic methods of decorating.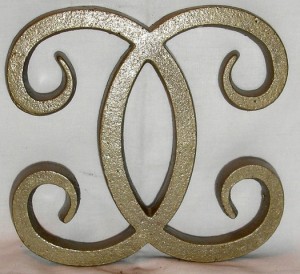 The Hottest Interior Design Trends for 2018
2018 has arrived and a great way to ring in the New Year is by adding some of these hot design trends into your home!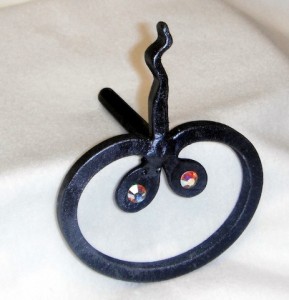 Funky, Contemporary Drapery Medallions from Metropolis Iron
So many designers are opting for a contemporary, sleek, clean look in rooms that they are currently designing. There are many home décor items available online and in showrooms that scream funky and stylish from knobs to brackets. We've heard designers cry for a line of drapery medallions that would suit all their contemporary décor needs and have listened.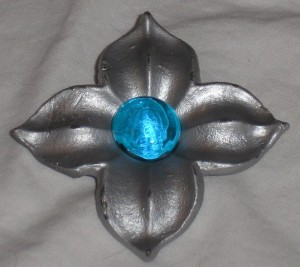 Break the Winter Blues with a Spring Redesign Using Floral Drapery Medallions
Winter is in full force! Most of the North is experiencing lower than normal temperatures and even the Southern states have experienced a cold snap and even snow in the Florida Panhandle! The winter blues are among us.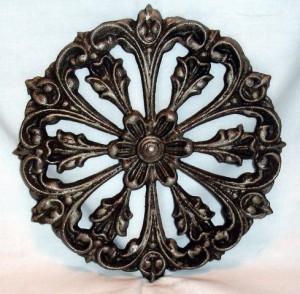 Metropolis Drapery Medallion Finishes Help Match any Project
Matching colors and finishes can be a designer's worst nightmare. There are so many color and finish scenarios in any given room that finding a perfect match can be an unnerving process. Our lead designer, Misti St. Pierre, knows this dilemma all too well and works with each client to find their perfect finish match when purchasing quality drapery medallions from Metropolis Iron.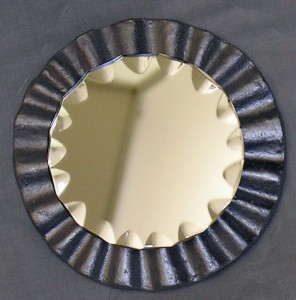 Scalloped Drapery Medallions Add Traditional Elements to Window Treatments
Designers looking to add traditional elements to their home décor and window treatment designs will love the Metropolis Iron line of scalloped drapery medallions. The traditional scalloped medallions include plain styled medallions and scalloped mirrored drapery medallions for that little extra flair.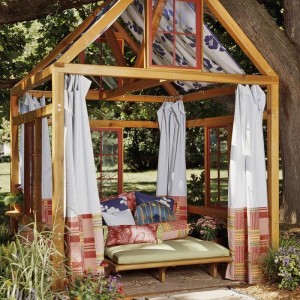 Drapery Medallions a Great Choice for Outdoor Garden Rooms
Spring is starting to show it's signs throughout the country, a welcome sign to many in the north that have dealt with unbearable cold and record setting snowfall totals. As the robins invade and crocus pop through the ground, many people are planning their gardens and outdoor area for the spring and summer of 2014. One of the hottest trends in outdoor design is garden rooms. Garden rooms can be incredibly simplistic to overly luxurious, but all aim to bring the indoor out and provide an outdoor area to relax, meditate and entertain.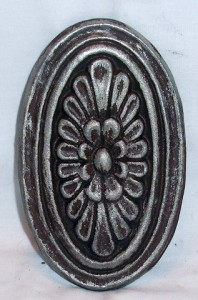 Drapery Medallions= Super Handy for Bay Windows
Bay windows are beautiful spaces in a home that can be perfect for a relaxing night of reading or just right for pondering. During a nice day, it's a good spot to bask in some sunshine. Add the perfect touch to your beautiful bay windows with a nice set of curtains and drapery medallions. The positioning of the windows may look a bit daunting, since there is more than one panel to tend to, but with the right approach and the right drapery medallions, the task can be just as easy as working with a regular window.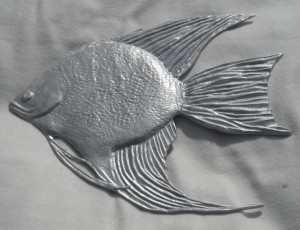 Go "Under the Sea" with our Fish Drapery Medallion
Living in Florida and traveling throughout the United States, we see a lot of great rooms with coastal and ocean inspired designs. Throughout our travels, we noticed that all these beautiful rooms (whether they are bathrooms, living rooms, porches, bedrooms or kids rooms) while have a great tied together coastal look, were missing a coastal aspect in their window treatment.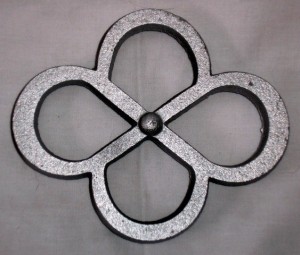 Get Patriotic with Americana Drapery Medallions
Are you feeling patriotic? How about a little red, white and blue for this upcoming Memorial Day Weekend? Nothing makes us feel more patriotic than seeing interiors that have been decorated with artifacts related to the history, geography, folklore and cultural heritage of the United States. All that's needed to make your home pop with patriotism are some white moldings, bead board, vivid colorful accents, a few flags, folk art, maybe a quilt or two, and, of course, you have to have a Windsor chair in there somewhere.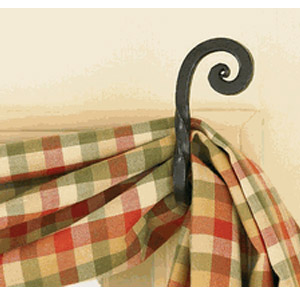 Working with Scarves, Swags and Drapery Medallions
The flowing beauty of a scarf valance adds character to home window treatments. With many ways to drape a scarf valance, it is simple to change the look in each room of the home. Whether the scarf valance is positioned over panels of drapery, sheer curtains or blinds, it adds color and texture to the room. A swag-style scarf valance using drapery medallions is quite an easy look to accomplish.