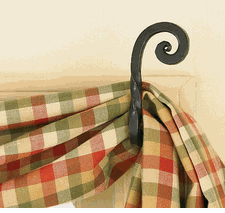 Designers and home décor DIY's that are looking to learn how to hand drapery medallions and scarf valances will find an expert new tutorial on MetroIron.net extremely helpful. The flowing beauty of a scarf valance adds character to home window treatments. With many ways to drape a scarf valance, it is simple to change the look in each room of the home.
Whether the scarf valance is positioned over panels of drapery, sheer curtains or blinds, it adds color and texture to the room. A swag-style scarf valance using drapery medallions is quite an easy look to accomplish.
The tutorial covers preparing the window for a valance, hanging the drapery medallions, preparing to swag the valance including measuring and hanging the valance scarf from the drapery medallions.
Lead Designer at Metropolis Iron, Misti St. Pierre stated "Our medallion and scarf valance tutorial was designed with all knowledge levels in mind. Beginners will find it easy to follow while expert designers will learn some new tips and tricks!"
About Metropolis Iron
Misti St. Pierre is the owner and operator or Metropolis Iron, Inc. Her desire is to service interior designers, drapery workrooms and distinctive homes owners by providing custom fabricated decorative metal products made from iron and aluminum. We specialize in drapery hardware, drapery medallions, outdoor drapery hardware, address plaques, table bases, decorative inserts, pet beds and much more. She is involved in each and every project right down to the final faux finish that she hand applies herself. It is essential to her that the business is run with honesty and integrity, the two character traits she builds her life upon. Some of her favorite and appreciated clients are the small business owner and of course referrals!