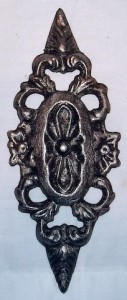 Silk is often called the "queen of fabrics", and for good reason. Nothing looks, feels, or performs like silk! Silk is made from "twin" cocoons, naturally bonded together. The slight bumps, or "slubs" in the fabric are evidence of this fiber bonding in nature.
One truth that we see year-after-year in our business, as interior design trends change, is that there are a few styles that endure. Think of them as the short black cocktail dress of fashion.
In drapery, one of the classic styles that is a cornerstone of interior design is the classic silk. It just seems that in any length, width or pleat style, the simple silk drape seem to compliment any interior. You just can't go wrong with classic elegance and versatility. You may want to try silk drapes paired with sheers, roman shades, roller shades or even Shutters! For a complete window treatment, silk drapes look wonderful with our many styles of Drapery Medallions available at www.metroiron.net.